Teaching from home?
Whether you're a parent or a professional educator, we know keeping your kids challenged and entertained during this pause from a normal school schedule can be difficult. We're here to help! We've got online resources for all ages designed to engage and educate.
Webinar / STEM in 30 / Lesson Plan / Read This Now / Get Creative

Online Resource Library
Visit our library to find online resources related to WWII history, STEM education and aviation from our partner organizations and other reputable sources.
Webinars:
Scholarship Season: Support Your Dream of a Future in Aviation
Dreaming of a future in aviation, but in need of some financial support? The Museum has two scholarships available right now to help you achieve your goals.
Join us for our LIVE webinar on Friday, December 18, to hear from two previous scholarship recipients, who will share the impact a scholarship can have on an education journey, and a step-by-step overview of how to apply!
From Enemies to Friends: A Peaceful Perspective on the Attack on Pearl Harbor
On December 7, 1941, Pearl Harbor was attacked by Japan, launching the United States into WWII. The story of the events that transpired that day have been told through notable statistics and stories of heroism. Museums have been built to remember what happened on that fateful day. Have you ever wondered how former enemies can now be close allies?
Dorinda Nicholson, a child-survivor and eye witness to the bombing of Pearl Harbor and the author of "Pearl Harbor Warriors: The Bugler, the Pilot, the Friendship," joins us as we explore two different and possibly unfamiliar perspectives of the Attack on Pearl Harbor, from a US Marine Corps bugler and an attack pilot from Japan. Listen to the story of what these two men experienced the day of the attack, how they were connected through their quest for peace and how they developed a friendship despite a relationship rooted in adversity.
Click here to download webinar resources.
Hangar Talk with Colonel Jill Long
Col. Jill Long takes what she has learned from her experiences as a fighter pilot, military leader and small business owner, and gives valuable advice on decision making, systems thinking and support for those trying something new.
Watch as we speak with Col. Jill "Raggz" Long — leader, mentor and passionate aviator — whose life lessons translate well to this moment of uncertainty brought about by the pandemic.
Click Here to Download Webinar Activities
The Swamp Ghost's Long Journey Home with Alfred Hagen
When: Friday, September 11, 2020 at 9:00 a.m. HST / 3:00 p.m. ET, LIVE on Zoom
You may have heard of the "Swamp Ghost," but do you know the fascinating history behind this unique WWII B-17 Bomber?
After running out of fuel during a bombing mission in WWII, the Flying Fortress splashed into the Agaiambo Swamp in Papua New Guinea, settling into five feet of water and thick grass. She sat there for 64 years, only seen by Australian Army pilots who glimpsed it from overhead, giving her the nickname "Swamp Ghost."
In this webinar, we speak with Alfred Hagen about this aircraft's journey from the Agaiambo swamp to her home at Pearl Harbor Aviation Museum.
Swamp Ghost Resources
Swamp Ghost Overview
Swamp Ghost Coloring Pages
B-17 Puzzle Activity
Swamp Ghost Word Search
The Swamp Ghost's Journey
To Restore or Not to Restore
How Museums Acquire Relics: Insight into the USS Arizona Bulkhead
When: Friday, August 21, 2020 at 9:00 a.m. HST, 12:00 p.m. PT, 3:00 p.m. ET, on Zoom
Have you ever wondered how museums acquire artifacts or relics?  Join us as we explore the history of the Japanese attack on Pearl Harbor on December 7, 1941 through a close analysis of the battle damage caused to the USS Arizona battleship, specifically the bulkhead that is now on exhibit at Pearl Harbor Aviation Museum.
Our featured speakers include Rod Bengston, Director of Exhibits, Restoration and Curatorial Services at Pearl Harbor Aviation Museum, who will help us to analyze one aspect of the attack on Pearl Harbor and show us how the exhibit at the Museum shares the story of the damage inflicted on the USS Arizona on this fateful day in our history.  Daniel Martinez, Chief Historian of USS Arizona Memorial, will show us the precise location on the USS Arizona where the bulkhead was damaged, and James Neuman, History and Outreach Manager at Navy Region Hawaii, will give us insight into the USS Arizona relic program and will share where all of the parts, relics, of the USS Arizona have gone.
The Lafayette Escadrille
When: Friday, July 24, 2020 at 9:00 a.m. HST, 12:00 p.m. PT, 3:00 p.m. ET, on Zoom
The Lafayette Escadrille is a brand-new feature-length documentary about the founding squadron of American combat aviation.
The filmmakers offered a behind-the-scenes sneak preview of the film prior to this live webinar where the filmmakers described the process of creating this historical film.
The webinar will feature the squadron's strong ties to Hawaii through the WWI pilots' families. Featured speakers will include Congressman Ed Case and Lt Colonel Nicholas Rutgers.
Student Resources: 
Download these educational resources and activities to learn more about The Lafayette Escadrille.
Lafayette Escadrille Resources
Lafayette Escadrille Aircraft Coloring Pages
78th Anniversary of the Battle of Midway
When: Friday, June 5, 2020 at 10:00 a.m. HST on Zoom
If the attack on Pearl Harbor launched America into World War II, then the Battle of Midway is best remembered for turning the tide of the war in the Allies' favor. In early June 1942, the U.S. Navy and Imperial Japanese Navy engaged in an epic battle in the Pacific Theater that resulted in America's first decisive victory in the war that would define a generation.
Join us as we explore contemporary perspectives about the Battle of Midway with guest presenters Rear Admiral Brian P. Fort, Commander, U.S. Naval Forces, Japan/Commander, Navy Region Japan; author Jonathon Parshall; and Craig L. Symonds, Ph.D, Professor of History Emeritus at the U.S. Naval Academy.
Student Resources:
Download these educational resources and activities to better understand the epic Battle of Midway:
Battle of Midway Resources
Battle of Midway Overview
Midway Aircraft Coloring Page
Ship Matching Activity
Context Activity
Coding Activity
Timeline Activity
A Conversation with Captain Tammie Jo Shults
When: Friday, May 15, 2020 at 9:00 a.m. HST on Zoom
Join us for a LIVE chat with Captain Tammie Jo Shults, one of the U.S. Navy's first female F/A 18 Hornet pilots and Southwest Airlines captain.
In April 2018, Tammie Jo successfully landed Southwest Flight 1380 after an engine exploded at high altitude, causing multiple system failures and a rapid depressurization.  
Hear her story of resilience and perseverance that prepared her to respond to this emergency, saving the lives of 148 passengers and crew.  We'll talk with Tammie Jo about her experiences, as well as highlight career pathways and resources for young people who are interested in aviation.
Student Resources:
Download these educational resources to further explore Tammie Jo Shults' success as an aviator and discover the career pathways available in the aviation industry:
Courage in Perseverance: Tammie Jo Shults
Discover Your Future in Aviation Overview
75th Anniversary of the Victory in Europe
Victory in Europe Day (V-E Day) on May 8, 1945, signaled the end of a long nightmare for the U.S. and her allies in Europe. WWII cost the lives of millions and brought untold suffering and privations to the populations of entire countries. Millions of people across the world rejoiced in the news that Germany had surrendered, relieved that the intense strain of total war was over.
We commemorated the 75th anniversary of this day with famed WWII Tuskegee Airman and retired Brigadier General Charles E. McGee, honoring the sacrifice that was experienced in the pursuit of peace and exploring the values and traits that led BG McGee to success in his career.
Student Resources:
Download this educational resource to further explore the 75th Commemoration of the End of World War II, Tuskegee Airmen and V-E Day:
V-E Day Webinar Resources for Teachers and Students
Era of Japanese-American Internment
When: Friday, May 1, 2020 at 2:00 p.m. HST on Zoom.
The attack on Pearl Harbor threw the United States into a panic. The threat of war, which was raging in Europe and parts of Asia, had not become reality for the U.S. until Japan succeeded in its surprise attack on December 7, 1941. Suddenly, the entire country was fighting a battle that required great courage and sacrifice.
In the midst of the panic and confusion, Japanese-Americans were singled out as potential enemies. President Roosevelt signed Executive Order 9066, authorizing the internment of tens of thousands of U.S. citizens and lawful residents of Japanese descent. The injustice of that order and the imprisonment of loyal Americans had far-reaching effects that still impact us today.
Join us as we explore this topic with Matthew Elms, author of When the Akimotos Went to War: An Untold Story of Family, Patriotism, and Sacrifice During World War II and Jacce Mikulanec, President and Executive Director of Japanese Cultural Center of Hawaii. Educational resources will be presented to learn more about the internment of Japanese-Americans in Hawaii.
Student Resources:
Click here to download additional resources to accompany our webinar about the internment of Japanese-Americans during World War II.
Eyewitness to History
When: Wednesday, April 22 at 9:00 a.m. HST on Zoom.
The surprise attack on Pearl Harbor and the impact of WWII shaped the lives of the children who lived through it. Martial law, school closures and rationing were just a few of the hardships they experienced. Join Jennifer Swanson, author of Pearl Harbor: American Girl Real Stories of My Time, and Dorinda Nicholson, author of Pearl Harbor Child and inspiration for the American Girl doll "Nanea," as they share stories and lessons from that era.
In addition to learning about the children who experienced WWII, this webinar will teach students how they can become young historians to collect, document, and preserve their own family's stories.
Student Activities
Get your student involved in oral history! Download these at-home activities and resources:
The Doolittle Raid
When: Friday, April 17 at 9:00 a.m. HST on Zoom.
Seventy-eight years ago, the world was at war and the United States was reeling from the surprise attack on Pearl Harbor. Imperial Japan continued its push throughout the Pacific, gaining territory and valuable resources to support its strategic goals. A bold plan was needed to stop Japan.
The Tokyo Raid, better known as the Doolittle Raid, was America's answer to the enemy's aggression. On April 18, 1942, Lt. Col. Jimmy Doolittle, an experienced pilot with the U.S. Army Air Forces, led a group of 16 B-25 Mitchell Bombers in a secret mission to bomb mainland Japan. Join our webinar to discover the resilience and innovation that defined the Doolittle Raid, featuring Jonna Doolittle Hoppes, granddaughter of the famous aviator, and Seth Paridon, historian at The National WWII Museum.
Student Activities:
Click here for more educational resources and hands-on activities related to the Doolittle Raid.
The Attack on Pearl Harbor
The National WWII Museum and Pearl Harbor Aviation Museum hosted a webinar for students and families to learn how the "day of infamy" changed the lives of Americans. Students participated in a live Q&A with educators from both museums and learned from decision-making scenarios.
Click the links below to watch this two-part webinar series on our YouTube channel.
Watch Part One: The Attack on Pearl Harbor
Watch Part Two: The Attack on Pearl Harbor
Student Resources:
Download these educational resources and activities to further explore the attack on Pearl Harbor.
Part One Lesson Plan
Part Two Lesson Plan
Watch This:
How Do Planes Fly?
Watch this short video with your kids to learn about the four forces that work together to keep planes in flight.
Victory At Guadalcanal
Check out this short video to see an animated overview of how the Allies achieved a strategic victory at Guadalcanal.
Story Time from the National Air & Space Museum
These virtual Story Time videos from the National Air & Space Museum educate young children about famous aviation pioneers and moments in history.
How do Astronauts Prepare for Space?
Do you think you have what it takes to go to outer space? Among the extensive preparations are long interviews, physical evaluations, survival methods and so much more. Check out this video documenting astronauts as they get ready to travel to space.
TED-Ed: What You Might Not Know About the Declaration of Independence
Watch this short, animated TED-Ed video explaining the history behind the Declaration of Independence.
Documentary: Remember Pearl Harbor
This WWII Foundation documentary film reveals personal stories of those who witnessed the attack on Pearl Harbor. Classroom resources included!
Student Webinar: STEM in WWII
Uncover how WWII innovators used the "adopt, adapt and apply" technique during the war in this National WWII Museum webinar.
STEM in 30: Women in Aerospace
From the time the airplane first took to the air, women have played an important role in shaping the aerospace industry. Join STEM in 30 and Anousheh Ansari, the first female private space explorer, as we take a look at the contributions of early women aviators, female astronauts and other pioneering women.
STEM in 30: Stars and Exoplanets
Learn about the "Diamonds in the Sky," AKA stars and exoplanets in this STEM in 30 episode created by the Smithsonian National Air and Space Museum. Perfect for elementary students, this 30 minute video will help kids understand what they are actually looking at when they gaze up at the night sky — are they seeing stars or something else?
Lesson Plans & Activities:
Aircraft Connect The Dots
Connect the dots to complete the outline of some of the most of well-known aircraft in aviation history!
Distance Learning: WWII Learning Center
Explore this WWII online learning center created to help commemorate the 75th Anniversary of the End of WWII in 2020.
Distance Learning: The Battle of Guadalcanal
Have your students watch this online learning series from The National WWII Museum dedicated to this pivotal battle in the Pacific war.
National Air & Space Museum Learning Guides
Check out these learning guides for stimulating STEM lessons and activities for students in grades 5-7 from the National Air & Space Museum.
Amelia Earhart Cryptogram
Can you solve this puzzle? Download and print this page to unscramble the words, revealing a famous quote by Amelia Earhart!
STEM Rocketry Activities for Kids
3..2..1.. Blast off! Interested in model rockets, water rockets, or air rockets? Want to learn exactly how they're assembled and how they work? Check out these stimulating and educational rocket-related activities for kids!
Independence Day Word Search
Download and print out this fun fourth of July word search activity for your students and kids!
The Battle of Okinawa Interactive Timeline
The Battle of Okinawa lasted nearly three months, making it one of the longest and deadliest battles of the Pacific War. Explore the timeline of events surrounding the battle.
What Would You Do?
In this scenario based on actual events of the Battle of the Philippine Sea, students must make a difficult decision that could potentially endanger the safety of an American fleet.
Interactive American Flag
Explore the flag that inspired America's National Anthem with this interactive flag map from the Smithsonian National Museum of American History's Star-Spangled Banner Exhibit.
Student Activity: How to Properly Fold the Flag
Practice how to properly fold an American Flag by following these step-by-step instructions.
Battle of Midway Lesson Plan (6-8 grade)
Download this in-depth lesson plan titled "Making A Difference: Service & Sacrifice
At The Battle Of Midway" for 6-8 graders learning about World War II history.
Scrap Drive Lesson Plan
During WWII, scrap drives brought the community together to unite for a common purpose. In this lesson, students will make something that was used during WWII, learning more about this historical time through a hands-on activity.
WWII American POWs
Have your students take part in the observance of National Former POW Recognition Day on April 9, by completing this lesson plan from the National WWII Museum. Surviving Imprisonment in the Pacific: The Story of American POWs challenges students to critically assess the nature of violations committed by the Japanese forces during World War II.
Aviation Firsts Scavenger Hunt
A fun and educational activity for kids of all ages! Have students complete Education World's scavenger hunt worksheet about "firsts" in aviation history. Use the provided information in the Famous Firsts in Aviation page to help answer the questions!
Read This Now:
A Pictorial History of Rockets
More than 2,000 years of research, trials and discovery have resulted in today's current aerospace technology. Look at this illustrated timeline to see how far rockets have come!
All The Gallant Men by Donald Stratton
The preview of this New York Times best-selling memoir by USS Arizona Survivor Donald Stratton, will leave you wanting more. The hero delivers an unforgettable eyewitness account of the attack on Pearl Harbor.
Fourth of July Quotes
Check out these 40 quotes about freedom and independence to celebrate America's Birthday.
Nerves of Steel by Tammie Jo Shults
The captivating true story of Tammie Jo Shults' remarkable life and how she saved the lives of 148 passengers and crew aboard Southwest Flight 1380.
When the Akimotos Went to War by Matthew Elms
This nonfiction book captures the story of three Japanese-American brothers who volunteered for military service while their family members were forced into an internment camp.
Flygirl by Sherri L. Smith
Ida Mae Jones dreams of flight. When America enters the war, the Army creates the WASP, the Women Airforce Service Pilots – and suddenly Ida Mae Jones sees a way to fly. But the WASP won't accept her as a black woman, forcing her to make a difficult choice of pretending to be white to be accepted into the program.
The Girl With The White Flag by Tomiko Higa
On April 1, 1945, allied forces invaded the small island of Okinawa, Japan. This memoir by Tomiko Higa brings her own harrowing experience to life as a seven-year-old separated from her family and struggling to survive alone as some of the fiercest fighting of the war rages around her. The Battle of Okinawa lasted for almost three months and became one of the deadliest battles of the Pacific War.
Under The Blood-Red Sun by Graham Salisbury
If you haven't read this classic yet, now is the time! A page turner for both kids and adults, this fictional story chronicles Tomikazu Nakaji's experience in Hawaii as a local boy of Japanese heritage, before and after the attack on Pearl Harbor. The world shifted and suddenly it became a terrifying time to be Japanese in America.
Get Creative:
Fold an Origami Peace Crane
On August 14, 1945, Imperial Japan announces its unconditional surrender, effectively ending World War II.  Victory celebrations broke out around the United States and the world, reflecting the overwhelming sense of relief and joy felt by citizens of Allied nations at the end of the war. This was the start of peace between nations.
Learn how to fold your own "peace crane," an origami crane used as a symbol of peace.
Color This: Grumman F4F-3 Wildcat
Download and print this page to color in your very own Grumman F4F-3 Wildcat airplane!
Crafts That Can Fly!
Check out these 15 crafts that can fly! From super simple paper rockets to complex crafts like flying egg cartons and toy paper helicopters, there's something to create for kids of all ages!
Fourth of July Family Crafts
Check out this gallery of fun and festive fourth of July crafts. Learn how to make star spangled slime, patriotic tie dye towels, colorful flower vases and more with the whole family — there's something fun for everyone!
Color This: PBY Seaplane
Of the 61 PBY Catalina Seaplanes that were on Oahu the morning of Dec. 7, 1941, all but 11 were destroyed or damaged. Click below to print and color your own.
Color This: Aircraft Carrier
Aircraft carriers allowed for planes to take off and land from anywhere in the ocean, and were very important to the Battle of the Philippine Sea. Click below to print and color your own!
Bake This: Flag Fruit Pizza
Follow this easy step-by-step recipe to whip up a delicious Flag Day dessert!
Color This: Old Glory
This Flag Day, show your patriotic spirit by downloading and coloring this American Flag with red, white and blue!
Color This: Battle of Midway Aircraft
Download and color your own SBD Dauntless Dive Bomber and other aircraft from the Battle of Midway. The SBD Dauntless Dive Bomber is best known for delivering fatal blows to Japanese carriers during the epic battle.
Patriotic Memorial Day Crafts and Activities
Introduce your kids to the real meaning behind 
#MemorialDay
with these fun and educational crafts and activities!
Pearl Harbor Crossword Puzzle
Put your knowledge to the test! Download and complete this crossword puzzle about the attack on Pearl Harbor.
Color The B-17 Flying Fortress
Color this massive airplane that played an important part in WWII and gained fame fighting over occupied Europe.
Grow Your Own Victory Garden
Did you know Victory Gardens produced 40% of the vegetables grown in the U.S. during the war years? Watch this clip about the history behind these gardens and then click the button below to learn how to grow your own!
Create 5 Easy Paper Airplanes
Looking for a fun activity to do with the kids? Learn how to fold five different airplanes ranging from beginner to intermediate level. All you'll need is some paper, a pair of scissors, a ruler and some double stick tape (if you really want your planes to go the distance).
Color The P-40 Flying Tigers
Introduce your child to the Flying Tigers, a group of pilots who inspired hope in the hearts of Americans in the months following the attack on Pearl Harbor. Have your kids color in these P-40 Warhawks with the iconic Flying Tiger shark mouth design made famous by these brave pilots. Learn more about this famed group of pilots, their revered aircraft and the Museum's P-40 by visiting our Flying Tiger blog.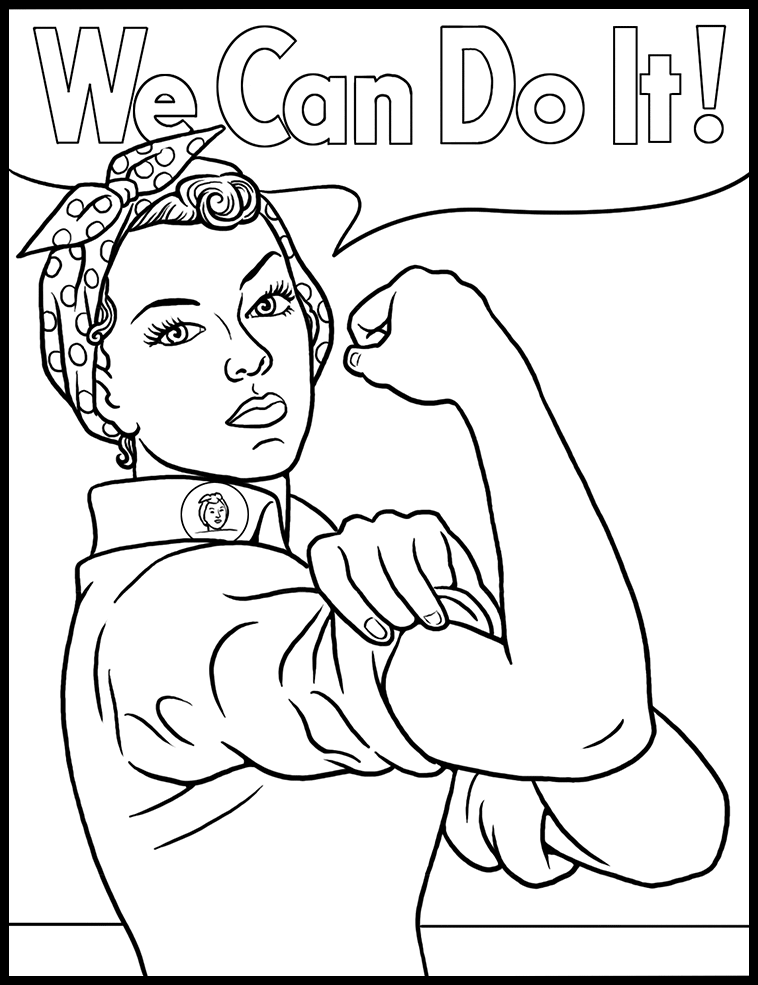 Color Rosie The Riveter
Rosie the Riveter represents the hard working women that entered the workforce during World War II. Introduce your child to this important symbol of female empowerment by having them color in this iconic "Rosie the Riveter" poster. Share with them the history of these women who stepped forward to work in factories and shipyards for the good of the country.