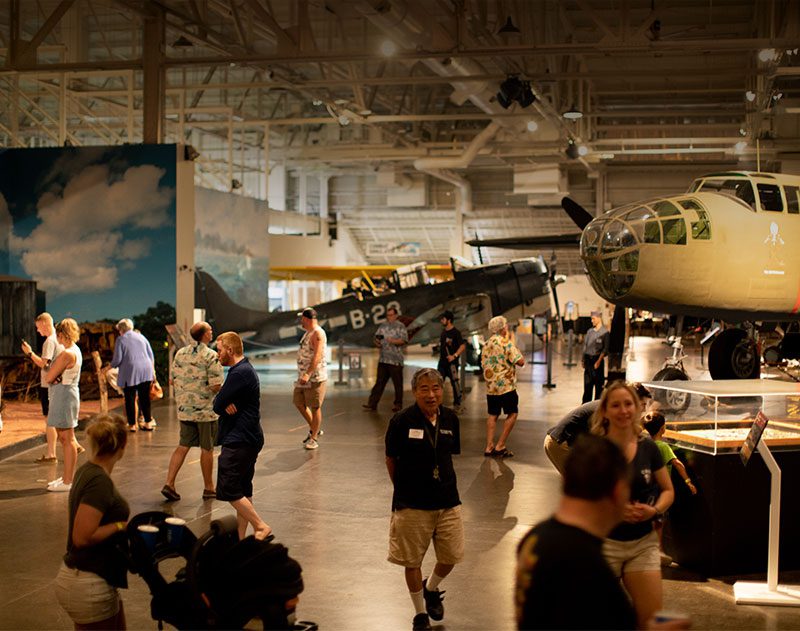 Experience the December 7, 1941 attack on Pearl Harbor like you never have before, from the place where bombs first fell on that fateful day. Beginning with the attack and covering 75+ years of Pacific aviation history, General Admission gives full access to our 50+ aircraft and all exhibits in Hangar 37, Hangar 79 and The Raytheon Pavilion.
Docents are available throughout the Museum to answer questions, tell stories and bring the exhibits to life. Free guided audio tours are available in English, Japanese, Spanish, Korea, Cantonese and Mandarin.
Adult: $25 (USD)
Children (Ages 4-12): $12 (USD)
Members: Free
Children 3 years of age and under, free.
The purchase of General Admission tickets allow close quarter, in-person viewing of the Blue Angel #4 as it is reassembled in historic Hangar 79. While the general public is able to access Museum grounds and watch the reassembly of the newly arrived Blue Angel #4 from a short distance away at no cost, a General Admission wristband is required to enter Hangar 79.
MUSEUM HOURS
Open from 9:00 a.m. – 4:00 p.m.
The museum is closed Mondays and Tuesdays.
The Museum is also closed on Thanksgiving, Christmas, & New Year's Day.
LOCATION
Pearl Harbor Aviation Museum
Historic Ford Island
319 Lexington Boulevard
Honolulu, Hawaii 96818
PARKING & SHUTTLE
Free shuttles depart approximately every 15 minutes from the Pearl Harbor Visitor Center from 9:50 a.m. to 3:00 p.m. The last shuttle returning visitors to the Pearl Harbor Visitor Center leaves the museum at 4:00 p.m.