Introducing the 2023 Scholarship Recipients
June 23, 2023
Pearl Harbor Aviation Museum awards 16 scholarships to those who dream of a future in aviation
Pearl Harbor Aviation Museum is honored to provide multiple scholarship programs to educate and inspire future generations to accomplish their goals in aviation. After a busy 2023 scholarship season and much deliberation, we are pleased to announce that our aviation scholarships have been awarded to 16 worthy recipients.
For Love of Country Scholarship
The For Love of Country Scholarship is part of the Pearl Harbor Aviation Museum Educational Endowment, which was established in 2021 to fund the Museum's educational efforts and to award scholarships to individuals committed to a career in aviation. The endowment was funded with $1,000,000 by the Rick & Teresa Price Family as a condition of the sale of a division of their Hawaii-based company to Oil Changers, Inc. in January 2020. The For Love of Country Scholarship awards up to $10,000 for individuals whose commitment to an aviation career is evident. 2023 Recipients: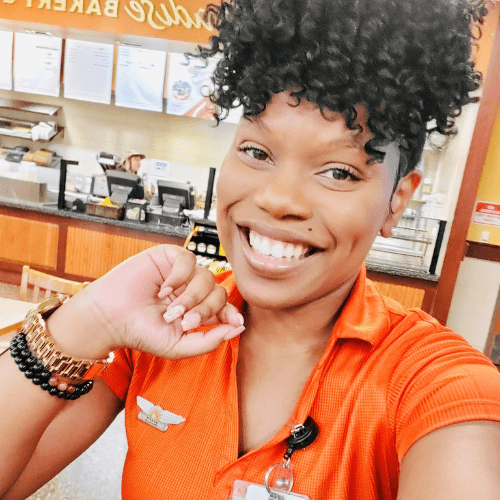 "A mile of road will take you just one mile, but a mile of runway will take you anywhere."
This quote has given Acacia the freedom of her wildest dream, to be a commercial pilot. She is currently enrolled in University of North Dakota Aerospace in Arizona. Completion of this course will give her a degree in applied airway technology with an emphasis in Flight. Acacia is only a few ratings away from being the one and only African American female pilot at her company! She is so thankful for the gift of flight!
Micah's interest in flying began in High School through the Civil Air Patrol. He found the orientation flights exhilarating and started flying lessons shortly after. Micah also helped start a Model UN chapter at Mililani High School and went on to compete in New York City at the National High School Model UN Conference in the Spring. He is currently working toward his Private Pilot License and plans on gaining hands-on experience as a student majoring in Aviation Studies: Flight Technology and Operations at Bowling Green State University in the Spring. He plans on working towards earning his Commercial License and becoming a Certified Flight Instructor, with the ultimate goal of becoming a commercial airline pilot and returning home to Hawaii to be a flight instructor.
Troy is from Santa Fe, New Mexico and is a rising junior Flight Science Major at Saint Louis University (SLU). His passion and enthusiasm for flying is evident in his participation in three aviation-related organizations: Alpha Eta Rho professional aviation fraternity, the Aviation Safety Committee, and Flight Team where he is a pilot and board member. Troy plans on earning his Commercial License this summer and becoming a Certified Flight Instructor. Ultimately, his career goal is to become a U.S.-based international captain.
In 2022, Makayla earned her private pilot's license with a glider rating. She is currently training in a fixed-wing single-engine Cessna 172S and is working towards completion in early 2023. She also holds a Part 107 Unmanned Aircraft Systems certificate. As a senior cadet in the Air Force Junior Reserve Officer Training Corps (AFJROTC), she holds the prestigious position of Core Commander. In addition, she leads the Cyber Patriots program and actively participates in an AFA Stellarxplorers team.
Makayla prioritizes giving back to the community and inspiring the next generation. As the youngest board member in Women in Aviation International's history, she serves as the Outreach Chair for the Mile High Chapter, promoting aviation engagement among young students. She has mentored aspiring aviators and shared her experiences in gliders, single-engine airplanes, and drones through organizations like Women in Aviation, the Ninety-Nines, The Space Foundation, and Wings Over the Rockies.
Her present objective is to continue building her flight experience and accomplish numerous aviation-related goals before starting college. She aspires to earn admission to the U.S. Naval Academy in the fall of 2024 and pursue a degree in Aerospace Engineering. Following her graduation from the Naval Academy, she aims to attend the U.S. Naval Test Pilot School. Makayla's ultimate ambition is to become a United States Astronaut!
Jack caught the aviation bug at a very early age after going to the airport every week with his grandpa. In the spring of 2022, he earned his private pilot certificate, and after a few more months of training at Oracle Aviation in Omaha, Nebraska, he earned his instrument add-on. He is now working towards obtaining his commercial pilot license and instructor rating.
His family tree includes many who have served in law enforcement, Marine Corps, Army, and Navy. His grandfather's uncle, William Dieter, was one of the first men in the Doolittle Raid to retaliate against the 1941 Japanese attack on Pearl Harbor. Service to others has always been important to Jack, and he looks forward to being able to serve his community by becoming a commercial airline pilot.
Shafer is a member of the graduating class of 2023 at Mid-Pacific Institute in Manoa, Hawaii. His passion for aviation began when he joined the Civil Air Patrol Hawaii Wing, Maryknoll Squadron in 2018 where he was exposed to aerospace concepts and leadership values. His aviation achievements include soloing at 16 years old and receiving his Private Pilot License on his 17th birthday. Shafer will attend Utah State University, majoring in their Aviation Technology, Professional Pilot program. In addition to pursuing his aviation certificates and ratings, he hopes to participate in the university's National Intercollegiate Flying Association (NIFA) competitive flight team. He will continue to volunteer with the Civil Air Patrol, Hawaii Wing by working towards his VFR Pilot qualification with a goal of becoming an Orientation Pilot.
James began his aviation career in the U.S. Army. After Army helicopter flight school, he served as an OH-58D Kiowa Warrior pilot-in-command and instructor pilot. In 2018, he chose to continue his aviation career as a commercial airline pilot and earned a Bachelor's Degree of Science in Professional Aeronautics from Embry-Riddle Aeronautical University. He earned his private airplane license at Barber's Point Aviation Services in 2019, and joined the Civil Air Patrol at the Wheeler Squadron where he serves as VFR pilot, Transport Mission Pilot, and Squadron Safety Officer. James has over 1,800 total hours, and over 400 hours in the local Hawaii airspace. He continues to pursue add-ons and hours needed to fly for a regional airline and serves as a Civil Air Patrol instructor pilot. His goal is to fly for Hawaiian Airlines, continue to serve in the Civil Air Patrol, and be home regularly with his family.
Col. Robert P. Moore Scholarship
The Col. Robert P. Moore Scholarship was established by Board Member and aviator, Col. Robert P. Moore, to help Hawaii residents in acquiring their initial FAA aircraft pilot certificate and Hawaii-based FAA Commercial Pilots (or ATPs) getting their initial or additional FAA Certified Flight Instructor (CFI) certificate in any FAA Category aircraft. 2023 Recipient:
IZABELLA BALATICO | $1,500
Only a high school senior, Izabella is already paving her way to success. She is a member of Phi Beta Kappa, a prestigious high school honor society, won 4th place in the state in her division in the statewide DECA business competition, and she has already completed 13 University of Hawaii Early College classes. As a Waipahu High School Early College Olympian, she will graduate in May 2024 with her high school diploma and Associates Degree. By graduating high school and finishing two years of college early, she has the opportunity to turn her attention to more hands-on experience in aviation. Izabella plans to earn her private pilot license before she goes to college, and hopes to graduate college and/or a flight program, enter a commercial airline, and ultimately become an entry-level commercial cadet pilot or first officer.
Brig GEN Robert B. and Judith Maguire Scholarship
The Brig Gen Robert B. and Judith Maguire Scholarship was established in 2021 by Judith "Judy" Maguire to honor her late husband, Brig Gen Robert "Bob" B. Maguire, a lifelong military and civilian aviator. Aviation has had a lasting impact on the lives of both Bob and Judy and their hope is that this scholarship will help deserving students pursue their dreams of flight. 2023 Recipient:
Aaron has completed all requirements for the commercial check ride, logging just over 250 flight hours in the past sixteen months. He is currently waiting on FAA Designated Pilot Examiner scheduling. He then plans on becoming a Certificated Flight Instructor over the summer, and being a Certified Flight Instructor at Embry-Riddle to build hours towards the Airline Transport Certificate, with the goal of flying for a major US carrier.
Frank Der Yuen Aviation Scholarship
The Frank Der Yuen Aviation Scholarship honors the aviation legacy of Frank Der Yuen, an internationally respected aeronautical engineer, airline executive, and consultant. Scholarships of at least $1,000 are awarded each year to Hawaii residents who have been accepted, or are enrolled, in an aviation-related program at an accredited trade school, college, or university. 2023 Recipients:
Caitlin fell in love with aviation as a young girl, thanks to her grandfather who was once the lead mechanic at Aloha Airlines. She started flight training in 2019, obtained her Private Pilot License in 2020, and is now finishing up her instrument rating. Caitlin serves on the Aloha Ninety-Nines Board as treasurer and loves being a part of the women pilot's community here in Hawaii. Her goal is to become a Captain at Hawaiian Airlines and hopes to also one day be able to donate scholarships. Caitlin is grateful to be the 2023 recipient of the Frank Der Yuen Aviation Scholarship and truly believes that scholarships change lives because they have definitely changed hers! When Caitlin is not studying for her next rating, she loves to spend time with her husband and son by going on walks and hanging out at the beach.
Gabriana has completed more than 34 flight hours at Barber's Point Flight School, and plans on completing all requirements to receive her Private Pilot License this summer. In the fall, she will continue her studies at the University of Hawaii at Hilo, majoring in aeronautical science and tropical agroecology. Gabriana is also an active member of the Aloha Chapter 99s, and plans to give back to her community by participating in community service days with the organization. She hopes to become a commercial airline pilot with Hawaiian Airlines, inspiring other Native Hawaiians and women to pursue a career in aviation.
Admiral Ronald J. Hays Scholarship
The Admiral Ronald J. Hays Scholarships was established by friends and family members to honor the life, service and achievements of Admiral Hays, a testament to how one can rise from a modest beginning and through hard work and dedication achieve great success while serving one's nation. His military career included service as a test pilot, combat missions over North Vietnam and numerous leadership commands before his appointment in 1985 as Commander in Chief Pacific Forces (CINCPAC) known today as U.S. Indo-Pacific Command. Instrumental in the founding of this museum, the Admiral Hays Scholarship is distributed to young people who demonstrate the qualities of leadership, patriotism and service to their community. 2023 Recipients:
Wesley Felice got his start in aviation in December 2020 taking ground school classes with a flight instructor. Shortly after, he passed his Airmen knowledge test. He then enrolled in an aviation maintenance program at SOWELA Technical Community College in Lake Charles LA, where he has completed four semesters of the aviation maintenance program. Wesley is scheduled to earn his A&P license in the spring of next year. He also achieved the rank of Cadet Second Lieutenant in the Civil Air Patrol. His goals in aviation are to get his A&P and commercial certificate, and fly for charter airlines and progress up to his CFII.
The Col. Robert F. Szul Scholarship
The Col. Robert F. Szul Scholarship, honors Bob's distinguished military service.  A decorated veteran, Bob flew numerous combat missions during the Vietnam War and joined Homeland Security after 9/11. As a Museum volunteer, Bob supported education programs, building a safe and fun educational experience for youth, and serving as a mentor and advocate for youth. He saw first-hand how involvement in these programs supported future goals, achievement, and success.  This year, these four young women were awarded the Col. Robert F. Szul Scholarship to attend the upcoming 2023 Flight School for Girls Summer Camp.
Tahni is 13 years old and is a member of the drone team at Ewa Makai Middle School. Being on the drone team has taught her about flight technology and coding, sparking her interest in science and math. She can't wait to learn more about the science behind flying airplanes at Flight School for Girls, and believes the program will support her future interests. She loves to draw and hopes to one day use her creativity and skills to become an artist.
Georgie is a member of the Drone Team at her school, an Aloha Ambassador Team Leader, and a member of Student Council. Outside of school, she participates in Karate, and occasionally, other various team sports. She is interested in learning about flying mechanics, aviation and enjoys STEM activities and hands-on experiences. She hopes to leave Flight School for Girls with new friends and an even greater passion for aviation and flight.
Jacqueline is an 8th grader at Moanalua Middle School with a 4.0 GPA, proudly serving as a Band Officer for the MMS Band. She is also an active volunteer and loves exploring the island with her Girl Scout Troop. Her father instilled a love of museums in her from a young age and she has always been fascinated by planes and their role in history. She dreams of becoming an astronaut! Jacqueline is excited for to gain a deeper understanding of aviation and what it takes to become a pilot through the Flight School for Girls program.
Kaiana has always had a fascination with things that fly – from birds to airplanes, both large and small. She has gained hands-on experience flying drones with her dad and can't wait to learn more about aviation and its captivating history at Flight School for Girls.
Thank you to all applicants! Stay tuned this fall for more information regarding the 2024 scholarship season.