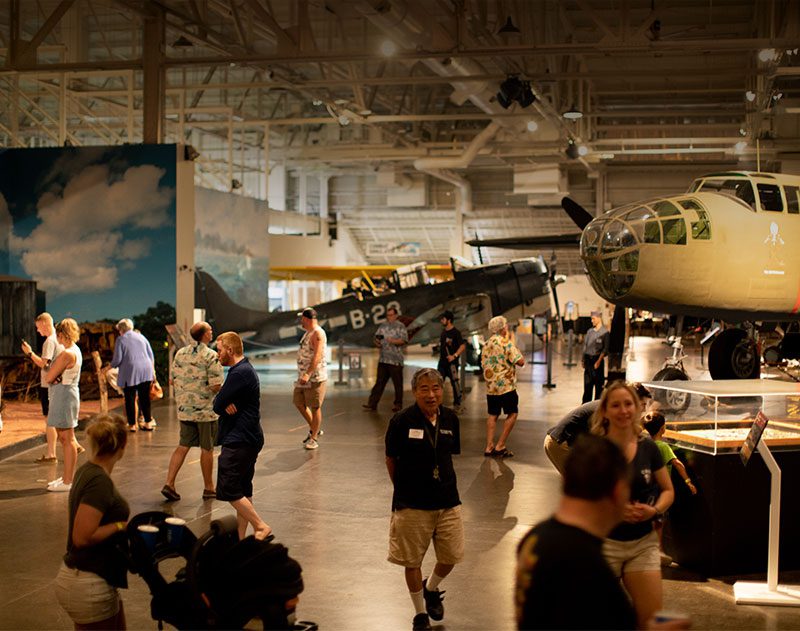 Experience the December 7, 1941 attack on Pearl Harbor like you never have before, from the place where bombs first fell on that fateful day. Beginning with the attack and covering 75+ years of Pacific aviation history, General Admission gives full access to our 50+ aircraft and all exhibits in Hangar 37, Hangar 79 and The Raytheon Pavilion.
Adult: $25.99 (USD)
Children (Ages 4-12): $14.99 (USD)
Members: Free
Children 3 years of age and under, free.
The Top of the Tower Tour is a once-in-a-lifetime experience featuring the Pearl Harbor battlefield from the iconic Ford Island Control Tower. A silent witness to the December 7, 1941 attack, the tower is now open to the public for the first time in decades, memorializing our Greatest Generation and the "day which will live in infamy."
$24.99 (USD) as an add-on to general admission or Passport to Pearl Harbor.
$34.99 (USD) as a single ticket price. (Top of the Tower Tour ONLY)
MUSEUM HOURS
Open from 9:00 a.m. – 5:00 p.m.
The Museum is closed on Thanksgiving, Christmas, & New Year's Day.
LOCATION
Pearl Harbor Aviation Museum
Historic Ford Island
319 Lexington Boulevard
Honolulu, Hawaii 96818
PARKING & SHUTTLE
Free shuttles depart approximately every 15 minutes from the Pearl Harbor Visitor Center from 8:00 a.m. to 4:00 p.m. daily. The last shuttle returning visitors to the Pearl Harbor Visitor Center leaves the Museum at 5:00 p.m.