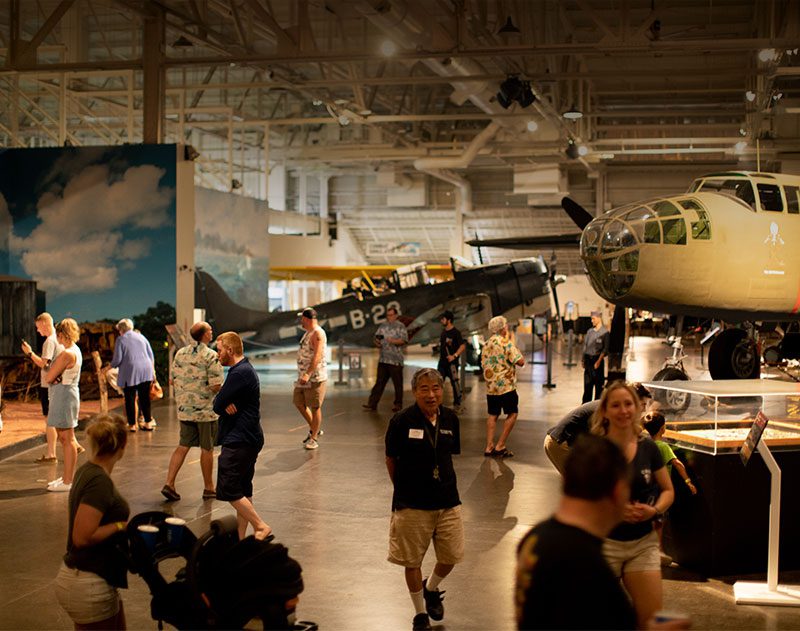 The Aviation Learning Center offers interactive learning experiences and activities that give students and adults a hands-on appreciation of flight.
During the two-hour experience, participants get a taste of ground school in the Learning Lab, perform a pre-flight check inside a Cessna 150 airplane, chart and plan a flight, and navigate their own route as they fly a simulator. Get in touch with our Education Department and explore the possibilities.
Experience the December 7, 1941 attack on Pearl Harbor like you never have before, from the place where bombs first fell on that fateful day. Beginning with the attack and covering 75+ years of Pacific aviation history, General Admission gives full access to our 50+ aircraft and all exhibits in Hangar 37, Hangar 79 and The Raytheon Pavilion.
Free guided tours for groups of five or less are included in General Admission. Free guided audio tours are available in English, Japanese, Spanish, Korea, Cantonese and Mandarin.
Adult: $25 (USD)
Children (Ages 4-12): $12 (USD)
Members: Free
Children 3 years of age and under, free.
MUSEUM HOURS
Open from 9:00 a.m. – 4:00 p.m.
The museum is closed Mondays and Tuesdays.
The Museum is also closed on Thanksgiving, Christmas, & New Year's Day.
LOCATION
Pearl Harbor Aviation Museum
Historic Ford Island
319 Lexington Boulevard
Honolulu, Hawaii 96818
PARKING & SHUTTLE
Free shuttles depart approximately every 15 minutes from the Pearl Harbor Visitor Center from 9:50 a.m. to 3:00 p.m. The last shuttle returning visitors to the Pearl Harbor Visitor Center leaves the museum at 4:00 p.m.